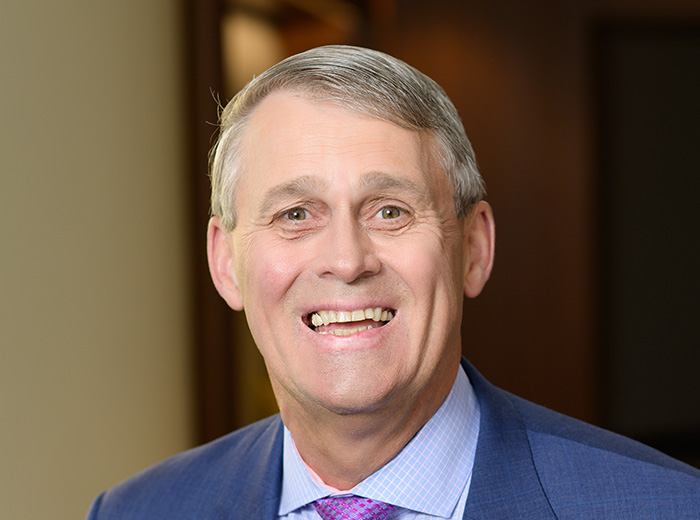 Lieutenant General David D. Halverson retired from the United States Army in 2016 after over 37 years of service. He became CEO of Cypress International Inc. in 2017 in Alexandria, Virginia, and later, Chairman and CEO.
Halverson served in various staff and leadership positions, including command at every level from Battery to Post Command to the Commanding General of the U.S. Army Installation Management Command. He has served in America, Europe, Korea, Panama, and South West Asia. As the U.S. Army Assistant Chief of Staff for Installation Management, he transformed the business approach to global installation management and programmed the $19B annual energy, general services, force protection, construction, and quality of life programs for over 154 installations in the Total Army.
Halverson's staff positions focused on program development, testing, concept and requirement development, strategic planning, cost-benefit, and risk analysis. He planned, coordinated, and executed war plans for OPERATION ENDURING FREEDOM and OPERATION IRAQI FREEDOM after 9-11. Halverson served on the Army Staff as the Director of Operations, Readiness, and Mobilization, G-3, and as the Director of Force Development, G-8. He transformed training and modernization as the Commanding General of the U.S. Army Fires Center of Excellence and Fort Sill, Oklahoma, and as the Deputy Commanding General, U.S. Army Training and Doctrine Command.
Halverson graduated from the United States Military Academy with a Bachelor of Science Degree and was commissioned a second lieutenant in the Field Artillery. He earned a Master of Science degree in Operations Research and Systems Analysis from the U.S. Naval Postgraduate School and graduated from the Kenan-Flagler Business School's Executive Development Program at the University of North Carolina. His military education includes the Field Artillery Basic and Advanced Courses, the Armed Forces Staff College, the Army War College, and the British Higher Command and Staff College.
He is a lifetime member of the Association of the US Army, the Field Artillery Association, and the Air Defense Association. He serves on numerous boards, including the Armed Services YMCA, the West Point Society of DC, the National Field Artillery Association, the MITRE Army Board of Advisors, and the Army West Point Athletic Association.
Lt. Gen. Halverson's awards and decorations include the Distinguished Service Medal with 3 Oak Leaf Clusters, Defense Superior Service Medal with Oak Leaf Cluster, Legion of Merit with four Oak Leaf Clusters, Bronze Star Medal, Defense Meritorious Service Medal, Meritorious Service Medal with two Oak Leaf Clusters, Joint Service Commendation Medal, Army Commendation Medal, Army Achievement Medal with Oak Leaf Cluster, and various other service medals and badges.