Program Learning Outcomes
By using various assessment tools and/or rubrics within the classroom, American Public University System (APUS) is able to capture a snapshot of students' success in fulfilling their program outcomes. Signature assignments, generally in the final course of a program, are used to assess students' proficiency in meeting each program outcome (PO). In order to show proficiency in an area, a student must achieve a score of 85% or greater. American Public University System strives to have 70% or more (university benchmark) of our students reaching the 85% proficiency standard. When this benchmark isn't met, action is taken to improve curriculum and instruction to better serve our students. The below chart shows combined results of M.A. Business Administration (MBA) students at APUS.
PO#1- Conduct advanced business analysis by incorporating the use of various data tools in the discovery of possible solutions for implementation.
PO#2- Compare and contrast various organizational managerial approaches to analyze their effect on the individual, group, and organization.
PO#3- Analyze the legal, regulatory, and compliance issues impacting managers in today's market place, and emphasize the importance of continuing education for managers for future legal changes.
PO#4- Evaluate and analyze advanced analysis methods and techniques to determine their user interdisciplinary applicability in order to meet current and business needs, and evaluate the need for changes in policies and procedures.
PO#5- Distinguish and implement various analytical financial tools to conduct business analysis and to communicate possible solutions and implementation plans for business decisions.
PO#6- Focus on various business strategies and approaches used by organizations in their mission to sustain and obtain various marketing segments in order to increase their growth potential and integrate business functions into a coherent business strategy.
PO#7- Compare and contrast various market-driven strategies used by organizations to effectively plan for current and future needs of customers.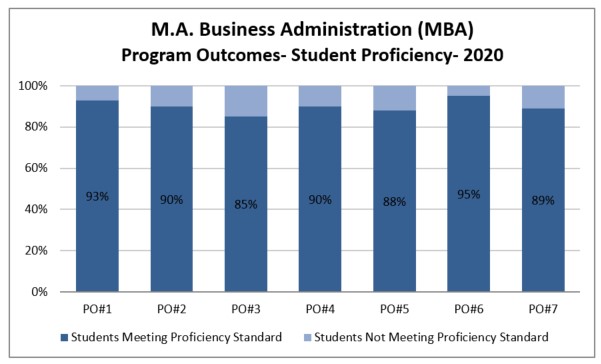 End of Program Survey
Student satisfaction is extremely important at American Public University System. Students are asked to complete a survey at the conclusion of their program to give insight on their experience. Below are anonymous, self-reported results, from the End of Program survey, for students in the MBA Program.