Program Learning Outcomes
By using various assessment tools and/or rubrics within the classroom, American Public University System (APUS) is able to capture a snapshot of students' success in fulfilling their program outcomes. Signature assignments, generally in the final course of a program, are used to assess students' proficiency in meeting each program outcome (PO). In order to show proficiency in an area, a student must achieve a score of 85% or greater. American Public University System strives to have 70% or more (university benchmark) of our students reaching the 85% proficiency standard. When this benchmark isn't met, action is taken to improve curriculum and instruction to better serve our students. The below chart shows combined results of M.A. Sociology students at APUS.
PO#1- Apply core sociological paradigms, theories, and concepts to social issues in a way that promotes the social, economic, and environmental well-being of individuals and communities.
PO#2- Demonstrate an advanced knowledge of social science research methods and statistical analysis to examine big data in interdisciplinary contexts and career fields.
PO#3- Describe career opportunities, professional responsibilities and challenges experienced by sociologists.
PO#4- Prepare a professional narrative through a portfolio demonstrating mastery of career skills for social scientists.
PO#5- Contribute to positive social change in personal and/or professional life through service to a diverse society.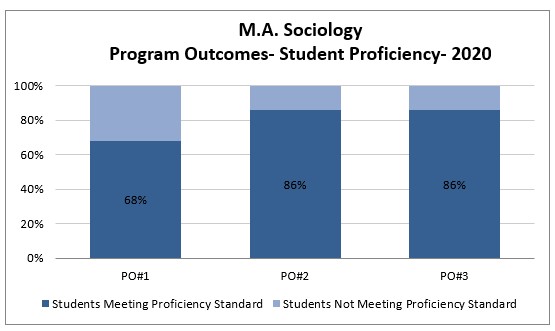 End of Program Survey
Student satisfaction is extremely important at American Public University System. Students are asked to complete a survey at the conclusion of their program to give insight on their experience. Below are anonymous, self-reported results, from the End of Program survey, for students in the M.A. Sociology Program.