Program Learning Outcomes
By using various assessment tools and/or rubrics within the classroom, American Public University System (APUS) is able to capture a snapshot of students' success in fulfilling their program outcomes. Signature assignments, generally in the final course of a program, are used to assess students' proficiency in meeting each program outcome (PO). In order to show proficiency in an area, a student must achieve a score of 85% or greater. American Public University System strives to have 70% or more (university benchmark) of our students reaching the 85% proficiency standard. When this benchmark isn't met, action is taken to improve curriculum and instruction to better serve our students. The below chart shows combined results of B.A. Government Contracting and Acquisition students at APUS.
PO#1- Explain the acquisition cycle and process, and the use and application of a contract audit.
PO#2- Explain contract requirements, types of contracts, and contingency contracting authorities and structure.
PO#3- Demonstrate how a Defense Contract Audit Agency audit report can be prepared to meet a negotiation objective, along with the workings of a competitive discussion.
PO#4- Explain the elements of cost in overhead, and calculate a price and cost objective using simple regression analysis, learning curve analysis, and statistics.
PO#5- Explain the FAR requirements for forward pricing rates, billing rates, and final overhead rates.
PO#6- Explain the Joint Theater Support Contracting Command (JTSCC).
PO#7- Explain ethics standards expected of government and contractor personnel, along with appropriate laws, regulations, and policies for a routine procurement.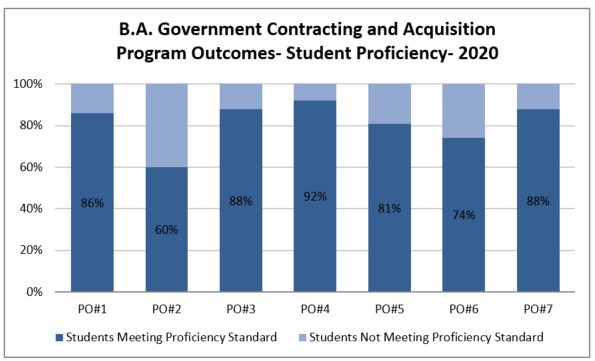 Learning Outcomes Assessment: ETS Proficiency Profile
Undergraduate students at American Public University System (both AMU and APU) are required to participate in our national testing initiative as they near degree completion. This involves completion of the ETS Proficiency Profile, a general education assessment. This initiative enables us to evaluate and inform teaching and learning, as well as benchmark our programs. Below are combined results from the ETS Proficiency Profile for B.A. Government Contracting and Acquisition students in the School of Business.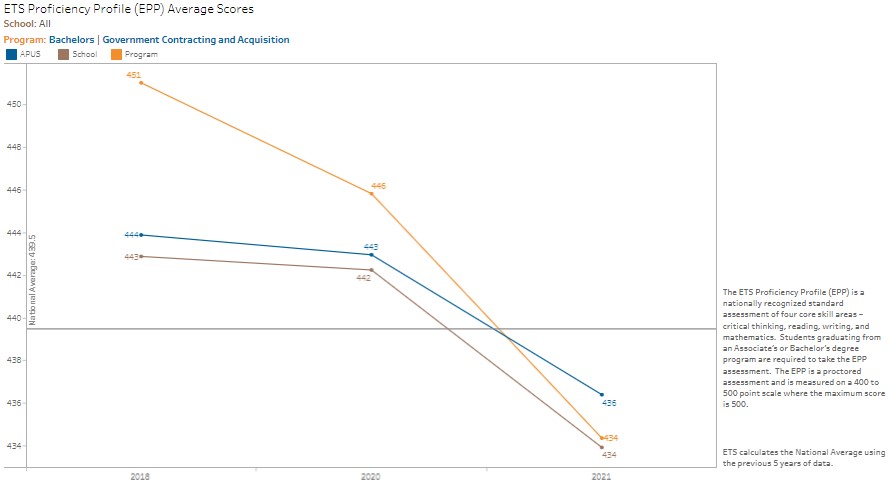 End of Program Survey
Student satisfaction is extremely important at American Public University System. Students are asked to complete a survey at the conclusion of their program to give insight on their experience. Below are anonymous, self-reported results, from the End of Program survey, for students in the B.A. Government Contracting and Acquisition Program.