Program Learning Outcomes
By using various assessment tools and/or rubrics within the classroom, American Public University System (APUS) is able to capture a snapshot of students' success in fulfilling their program outcomes. Signature assignments, generally in the final course of a program, are used to assess students' proficiency in meeting each program outcome (PO). In order to show proficiency in an area, a student must achieve a score of 85% or greater. American Public University System strives to have 70% or more (university benchmark) of our students reaching the 85% proficiency standard. When this benchmark isn't met, action is taken to improve curriculum and instruction to better serve our students. The below chart shows combined results of M.A. Military Studies students at APUS.
PO#1- Analyze the origins, development, capabilities, and vulnerabilities of both friendly and hostile military forces.
PO#2- Assess the major trends, theories, laws of war, events, and people that have shaped military studies in both an historical and modern context.
PO#3- Evaluate the variables and influences affecting military forces to include the following: leadership, doctrine; strategy, tactics, operations, joint operations and integrated systems, technology, cultures, and the multidimensional battle space.
PO#4- Judge examples of successful and unsuccessful military and strategic leadership philosophies and decisions based on historical and current events.
PO#5- Analyze critical issues and trends in national and international security that affect the strategic employment and sustainment of military forces and the relationship between military power and other elements of national power.
PO#6- Develop effective research, analysis, methodological, and presentation skills relevant to military studies.
PO#7- Synthesize information in a publication-quality paper that presents new knowledge or a new approach to a topic pertinent to the field of military studies.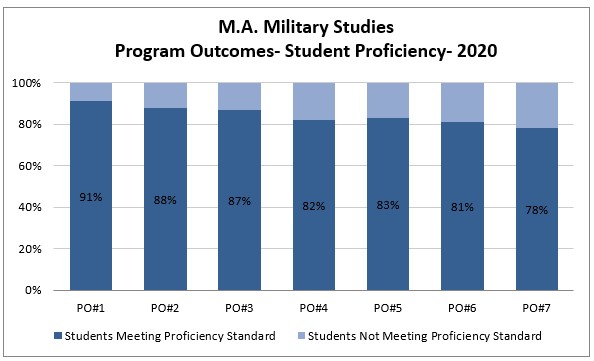 End of Program Survey
Student satisfaction is extremely important at American Public University System. Students are asked to complete a survey at the conclusion of their program to give insight on their experience. Below are anonymous, self-reported results, from the End of Program survey, for students in the M.A. Military Studies Program.