Vladoiu is a Two-time Presidential Award Recipient and Non-Profit Founder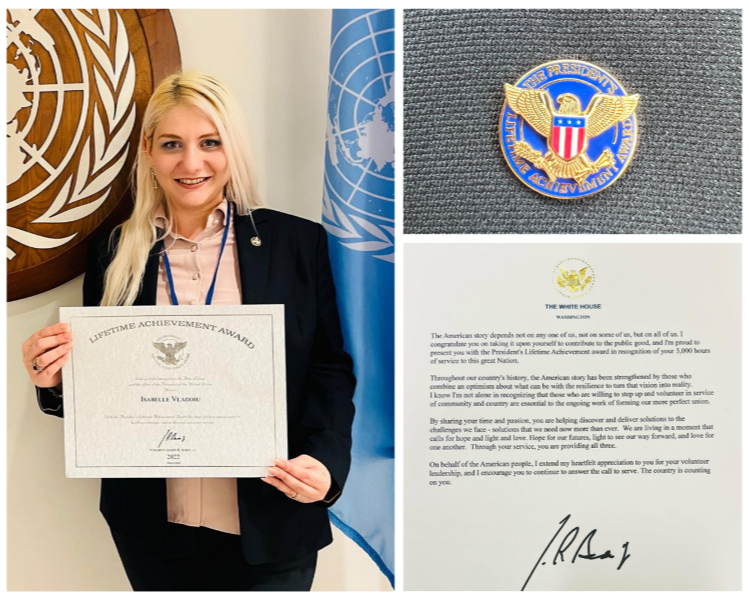 Charles Town, WV— December 9, 2022 – Ahead of the United Nations' Human Rights Day on December 10, American Military University doctoral student Isabelle Vladoiu has been presented with the 2022 Lifetime Achievement Award by President Biden. In the past decade, Vladoiu has personally worked with more than 15,000 professionals, government officials, leaders of non-governmental organizations (NGOs), and more to advocate for human rights education around the globe. She is one of the youngest recognized international human rights law specialists in the world.
To hear more about Vladoiu's accomplishments, including her founding the non-profit US Institute of Diplomacy and Human Rights (USIDHR), listen to the latest episode of American Public University System's 'Everyday Scholar' podcast.
In 2018, Vladoiu received her first President's Volunteer Service Award and gold medal from President Trump for her work on the ground advocating for human rights through education and training. This year, she was again honored by President Biden with the prestigious Lifetime Achievement Award for her contribution over a lifetime building a stronger nation through human rights advocacy and education. At only 31 years old, Isabelle has also worked with and received letters of recognition from governors, U.S. Senators and Representatives, local legislators, the United Nations, and NGOs.
"Before we can even begin to fight for human rights, we need to educate ourselves and others on what they are. Sadly, this is not something that is widely taught. In fact, most people cannot even define or identify human rights. This is why I started my whole mission," Vladoiu said on 'The Everyday Scholar' podcast. "We are 75 years past when the United Nations adopted the Universal Declaration of Human Rights—which states every person should be educated on their human rights—and there's still much more work to do."
In the past year, Vladoiu's organization, USIDHR, certified more than 5,000 human rights and diplomatic consultants around the globe. The organization focuses on training educators, advocates, and government officials globally to help implement human rights education programs and create policies for sustainable development.
While juggling her responsibilities at USIDHR along with being a first-time mother, Vladoiu was drawn to the AMU Global Security doctorate program for its flexibility, affordability, and course design that directly examines the evolution of real-world issues. The program explores the complex global security environment, and focuses on formulation and implementation of international, bilateral, and state policies and norms, as well as practices of global scope and concern. The program also addresses the impact of global conflict and security issues on domestic security and foreign policy.
"APUS is proud to provide education and resources to such an accomplished international human rights advocate as driven as Isabelle," said Dr. Nicole Drumhiller, Dean of the School of Security & Global Studies at APUS. "Her ongoing doctoral research through the Global Security program, focused on femicide in Latin America, will enable her to draw from her research and educational resources for direct application in her advocacy work."
Vladoiu wants to continue to grow USIDHR as an organization to address more human rights issues at the local, national, and international level. She plans to continue her doctoral research post-degree.
To listen to Vladoiu's podcast visit here. To learn more about AMU's doctoral programs, visit here.
About American Public University System
American Public University System (APUS) delivers accessible and affordable online higher education to adult learners of all backgrounds. APUS, a five-time recipient of Online Learning Consortium's (OLC) Effective Practice Award, offers more than 200 online degree and certificate programs through American Public University as well as American Military University, the #1 provider of higher education to the U.S. military and veterans.* With over 125,000 alumni worldwide, APUS is accredited by the Higher Learning Commission (HLC), an institutional accreditation agency recognized by the U.S. Department of Education. APUS is a wholly owned subsidiary of American Public Education, Inc. (Nasdaq: APEI). For more information, visit www.apus.edu.
*Based on FY 2019 Department of Defense tuition assistance and Veterans Administration student enrollment data, as reported by Military Times, 2020.