This year's theme "Accelerate Your Career Potential" invites professionals exploring their next career move to network with nearly 100 leading employers nationwide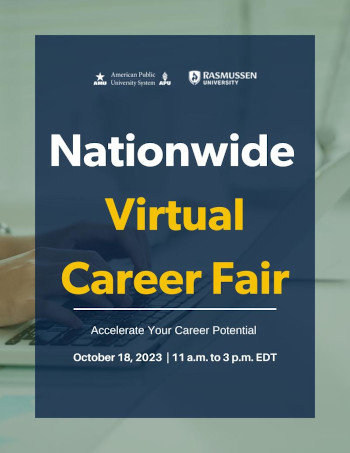 Charles Town, WV— October 11, 2023 – American Public University System (APUS) is pleased to partner with Rasmussen University to host a Nationwide Virtual Career Fair on Wednesday, Oct. 18 from 10 a.m. to 2 p.m. CST. Participants can network with recruiters and learn more about open positions with nearly 100 leading employers nationwide in industries including healthcare, business, technology, early childhood education, as well as the government sector. The event is open to the public and offered at no cost.
This year's theme, "Accelerate Your Career Potential" encourages professionals to find a role and employer that aligns with their professional goals and values. Job seekers just beginning their careers or those who may be looking for a change can explore career path opportunities and find open positions ranging from entry to senior level.
According to a recent dataset from BambooHR, an HR software company, employee satisfaction has declined steadily since 2020 with the largest dip over the past year. Overall, satisfaction scores fell 11 percent from June 2022 to June 2023, declining around 15 times faster than the previous two years combined.
"By APUS and Rasmussen joining hands to host this career fair, we are expanding our employer participation to make the event even more worthwhile for our students, alumni, and communities," said Christine Muncy, Associate Vice President of Career Services at APUS. "Rasmussen has deep healthcare employer connections across the nation, while APUS, which serves a large military and veteran student population, has strong relationships with several leading business and government employers—all of which are eager to network with candidates."
At the Nationwide Virtual Career Fair, participants can:
Apply to Jobs Directly: Jobs will be posted in employers' booths where participants can easily apply.
Chat Live with Recruiters: Recruiters will be live during the event to answer questions about their company and open positions.
Share Their Resume: Resumes will be made available to employers during and after the event.
American Military University and American Public University have been hosting career fair events since 2009 boasting several thousand participants to date. Rasmussen transitioned its annual career fair to a virtual setting seven years ago allowing participants to attend from almost anywhere, including the comfort of their home or office.
"We know today's workers are facing unique challenges including record inflation, employers changing remote working options, and not hearing from employers about applications," said Elizabeth Lintelman, director of Career Services at Rasmussen University. "If you're not content with your current role, our Virtual Career Fair is a great place to connect with prospective employers, learn about exciting career paths, and chat live with recruiters who are willing and ready to do interviews on the spot. It is also a tremendous opportunity for college students early on in their program to have conversations with employers and better understand where they might want to work upon graduation."
To learn more about the National Virtual Career Fair and to register for the event, visit https://nationwidevcfattendee23.splashthat.com/.
About American Public University System
American Public University System (APUS) delivers affordable, high-quality, workforce-relevant higher education. With a vibrant, diverse, and inclusive, 32-year history and over 135,000 alumni from more than 100 countries, APUS is recognized for its innovative approach to online learning. APUS is in the top 11% for students' return on educational investment, compared to 4,500 colleges and universities nationwide, according to the Georgetown University Center on Education and the Workforce (2022)1.
APUS, which includes American Military University (AMU) and American Public University (APU), is accredited by the Higher Learning Commission (HLC), an institutional accreditation agency recognized by the U.S. Department of Education. APUS is a wholly owned subsidiary of American Public Education, Inc. (Nasdaq: APEI). For more information, visit www.apus.edu.
1Ranking based on 20-year net present value (NPV) https://cew.georgetown.edu/cew-reports/roi2022/.
About Rasmussen University
Rasmussen University, a university accredited by the Higher Learning Commission, an institutional accreditation agency recognized by the U.S. Department of Education (www.hlcommission.org), is dedicated to changing lives and the communities it serves through innovative educational programs. As a pioneer in career-focused education since 1900, the University is defining a new generation of higher education that focuses on competency-based education, technology and transferable skills. Rasmussen offers undergraduate and graduate programs online and in person at 22 campuses around the country. The University is designed to lift and support its students every step of the way, from each student's first credential to their last. Rasmussen is dedicated to global enrichment, serving the underserved and meeting the evolving needs of diverse students, communities and economies. Rasmussen encourages its students, faculty and staff to strive for academic excellence, community enrichment and service to the public good. Rasmussen is a wholly owned subsidiary of American Public Education, Inc. (Nasdaq: APEI). For more information about Rasmussen University, please visit www.rasmussen.edu.