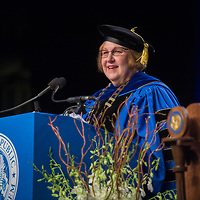 Charles Town, W. Va., May 17, 2017 – American Public University System (APUS) celebrated the achievements of one of its largest-ever graduating classes at its 21st annual commencement on May 13 at the Gaylord National Resort in National Harbor, Md. Nearly 11,000 American Military University (AMU) and American Public University (APU) graduates were recognized, with more than 1,100 in attendance, and thousands more participating via live webcast from around the world.
The Class of 2017 featured approximately 5,700 bachelor's, 3,100 master's, and 2,100 associate degree conferrals, expanding the APUS global alumni network to more than 70,000 worldwide. Recipients represented states across the US and more than 24 countries, including over 6,300 servicemembers.
The ceremonies marked the first presided over by Dr. Karan Powell, inaugurated as president in November 2016, and her successor as provost, Dr. Vernon Smith. Dr. Powell urged the graduates to "always embrace the joy and sense of accomplishment you feel today in achieving your educational goals, whether you did it for promotions, a better job, to be a role model for your children and your grandchildren, or for personal satisfaction."
Dr. Powell also announced APUS's first two applied doctoral programs in Strategic Intelligence and Global Security. The programs - designed to be offered in three annual cohorts beginning in January 2018 - meet the need for higher-level education and research combined with professional practice to equip students and faculty to dynamically contribute to the global security and intelligence dialogue.
In addition to the keynote address by VADM Charles Ray, Coast Guard Deputy Commandant for Operations, and remarks from alumni speaker Dr. Cheryl Seminara, highlights from this year's ceremony included the following:
AMU Intelligence Studies graduate Matt Hughes received the Graduate Student President's Award for his contributions to expanding the body of knowledge in military intelligence and commitment to diversity.
APU Sports and Health Sciences graduate Hwal Lee received the Undergraduate Student President's Award for his commitment to lifelong learning and community service.
AMU Public Health graduate Chrystal Averette received the James P. Etter Award for Creativity and Innovation for her participation in a May 2016 Hepatitis B Awareness Month campaign.
APUS Board of Trustees members LTC Jim Herhusky and LTG Richard Trefry were each recognized as emeritus trustees.
Twelve graduates received the Academic Scholar Award for their superior academic achievements in earning an AMU or APU degree. Additional outstanding alumni were also recognized with Community Service, Education, University Service, and Distinguished Graduate Awards, while student organization leaders and outstanding chapters were recognized for their achievements in co-curricular activities.
Overall, more than 25 student organizations participated in various events, and over 150 alumni, faculty, and staff members packaged 50,000+ meals for distribution to underprivileged communities worldwide through Rise Against Hunger.