Charles Town, W. Va., Sept. 6, 2017 — American Military University (AMU) today announced five undergraduate and graduate scholarship recipients under a program which awards tuition, fees, and course materials for the 2017-18 academic year. Nominations from service associations are currently pending for the sixth, and final, award in the inaugural program.
"AMU has an ongoing commitment to provide quality, affordable programs to those who serve," said John Aldrich, vice president, military, veterans and education partnerships. "We are extremely proud to recognize each of these deserving individuals for their contributions to our nation and their local communities while on duty."
The inaugural AMU scholarship award recipients, who were recognized at recent ceremonies hosted by the Air Force Sergeants Association (AFSA), Enlisted Association of the National Guard of the United States (EANGUS), and Marine Corps League (MCL), include the following:
Alexander Anderson (EANGUS, undergraduate) currently serving his fourth year of a six-year enlistment in the Arkansas Air National Guard, is pursuing a certificate in sustainability studies and seeks to become a commissioned officer.
Michael Lamphere (EANGUS, graduate) has completed two CCAF degrees, obtained a bachelor's in criminal justice from AMU in 2011, and has also begun working on his master's in emergency & disaster management with AMU.
Evelyn Remines (MCL, undergraduate) currently serves as Maryland commandant at the Aberdeen Proving Ground and received her associate's in general studies in December 2016 after pursuing it off-and-on for the last 25 years.
SSgt Brock Thomas (AFSA, graduate) was recognized on the basis of also being named the William H. Pitsenbarger Award recipient, which recognizes heroic acts, on- or off-duty, which resulted in the saving of life or the prevention of serious injury.
Teri Lynne Tompkins (MCL, graduate) an accountant who has been employed at a local community bank as an internal auditor since 2008, began her associate degree in 2007 and completed her bachelor's in 2017.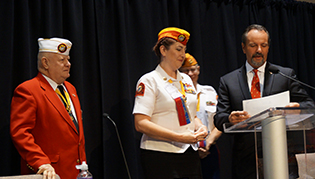 Evelyn Remines receives scholarship award at ceremony hosted by Marine Corps League.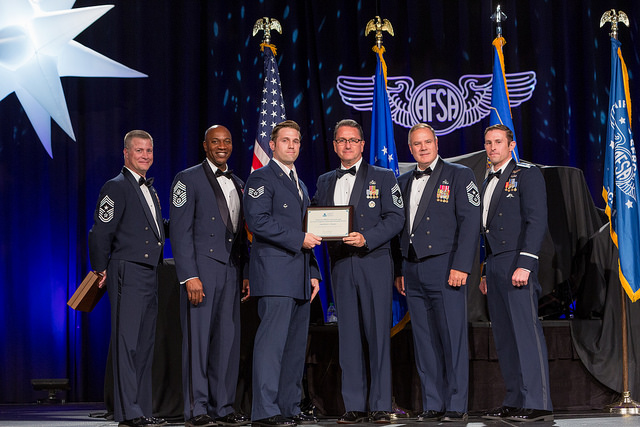 Brock Thomas, recipient of the William H. Pitsenbarger Award, recognized at AFSA hosted ceremony.