Charles Town, W. Va., November 27, 2017 — American Public University System (APUS) today announced that it presented an Idea Path prize to Lumen Labs of Kenya as part of the 2017 Milken-Penn GSE Education Business Plan Competition (EBPC). The early-stage entrepreneurship recognition, part of APUS's $25,000 total prize money, was awarded as part of the Reimagine Education Conference.
Lumen Labs will help provide a reliable means of data collection in remote communities so companies and nonprofits working in the community can accurately plan, fund and evaluate their activities. Students are trained to conduct project-based market surveys with their heads of households, after which Lumen aggregates and validates the data for clients. Students are separately taught to analyze and create stories with the data on the computer, mastering key digital skills such as excel and word processing.
Lumen Labs was one of 12 finalists chosen from more than 350 entrants in over 17 countries. The finalists presented their projects—showcasing the best and most promising new ventures in the field—to a select judging panel of industry leaders, including APUS Chief Innovation Officer Amy Bevilacqua.
"I'm very pleased to congratulate Lumen co-founders Ruby Au and Rick Kiilu," said Bevilacqua. "Lumen integrates data collection with digital learning to bridge the educational and data gap in rural Kenya."
Now in its eighth year, EBPC stimulates cutting-edge ideas—whether local or global, profit or non-profit, or preschool through adult learning—that serve the world's educational needs. Launched in 2010 by the university's Graduate School of Education in partnership with the Milken Family Foundation, EBPC is the nation's first-ever funded education business plan competition. The EBPC Venture Path—for start-ups that already have revenues, grants, customers, or investments—will begin accepting applications in January for a competition in May.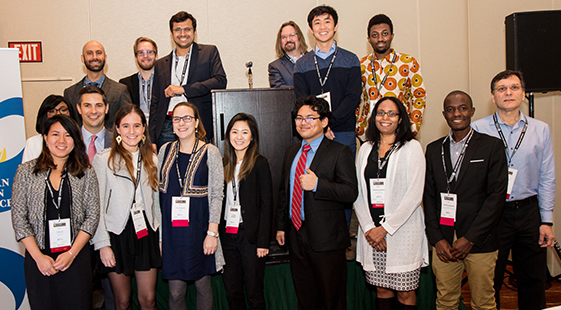 Pictured is Lumen Labs co-founder Ruby Au (front row left) with other EBPC finalists.