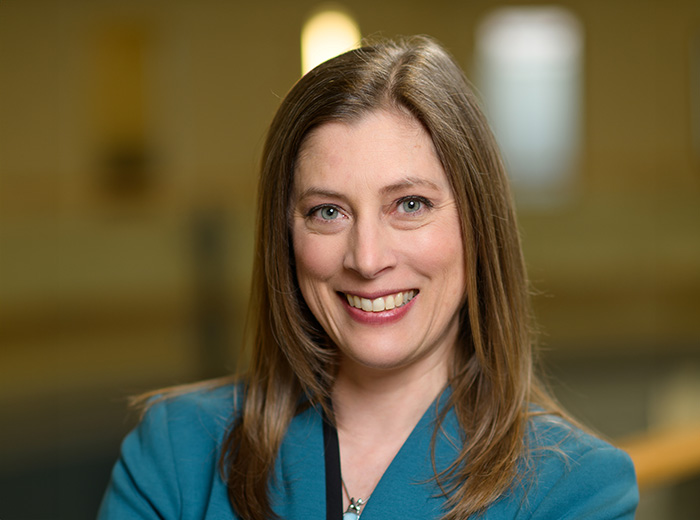 Charles Town, WV— June 9, 2023 – American Public University System (APUS) today announced the appointment of Dr. Elizabeth Johnson to Provost, effective June 9, 2023. As Provost for both American Public University and American Military University, Johnson will lead the academic strategy, faculty success, academic support teams, registrar, and product management across five schools and graduate studies.
An experienced academic administrator, Dr. Johnson has served in roles of increasing responsibility over the last 20 years as a professor, department head, dean and provost. Most recently, she was Chief Academic Officer and Provost at Post University, a regionally accredited, online and on-campus for-profit university in Waterbury, Conn., for over seven years.
"We are highly focused on delivering a truly digital and memorable academic experience for learners of all backgrounds, and I am confident that Dr. Johnson will help us continue to advance our mission for years to come," said Nuno Fernandes, APUS President. "We are thrilled to have her as part of our dynamic, high-performing leadership team."
Dr. Johnson, hired after a nationwide search, will strive to deliver meaningful learning experiences that promote leading edge, innovative, affordable and workforce-relevant higher education for APU and AMU students. She takes over for Interim Provost Dr. Marie Harper, who has provided steady guidance to academics since November 2022.
"I am honored to join a well-established and widely respected University poised to take student experiences to the next level of digital learning," said Dr. Johnson. "I look forward to working with faculty to continue helping our students achieve all their educational goals."
Dr. Johnson serves as a Site Team Evaluator for the New England Commission on Higher Education and is a Founding Independent Board Trustee for the Knowles Johnson Institute. She is also a Council Member for the State of Connecticut Open Education Resources Coordinating Council, and a Trustee for the Connecticut Community Foundation. She was awarded the New Haven (Conn.) Biz's Women in Business Award in 2022, and an International Stevie Award for Female Executive of the Year in 2021.
Dr. Johnson earned her Doctor of Philosophy Degree from the University of Massachusetts. She has a Master of Science Degree in Plant and Soil Science from the University of Massachusetts and earned a Bachelor of Science Degree in Earth and Environmental Science from Lehigh University.
About American Public University System
American Public University System (APUS) delivers affordable, high-quality, workforce-relevant higher education. With a vibrant, diverse, and inclusive, 31-year history and over 129,000 alumni from more than 100 countries, APUS is recognized for its innovative approach to online learning. APUS is in the top 11% for students' return on educational investment, compared to 4,500 colleges and universities nationwide, according to the Georgetown University Center on Education and the Workforce (2022)1.
APUS, which includes American Military University (AMU) and American Public University (APU), is accredited by the Higher Learning Commission (HLC), an institutional accreditation agency recognized by the U.S. Department of Education. APUS is a wholly owned subsidiary of American Public Education, Inc. (Nasdaq: APEI). For more information, visit www.apus.edu.
1Ranking based on 20-year net present value (NPV) https://cew.georgetown.edu/cew-reports/roi2022/.