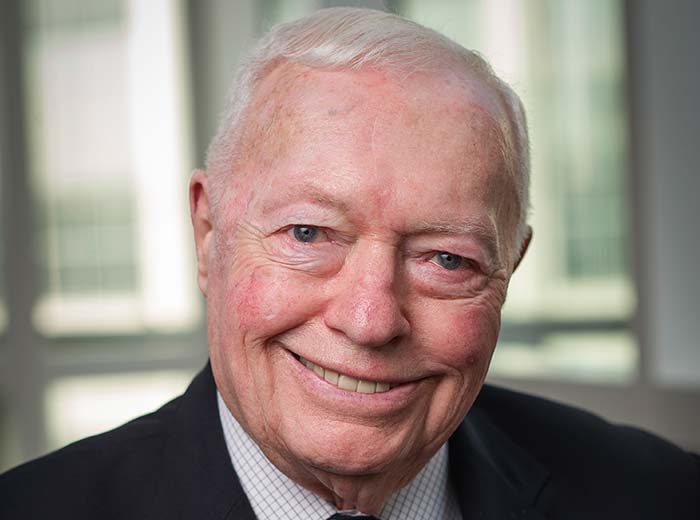 Retired General Alfred M. Gray currently serves as chairman of the Board of Regents, member of the Board of Directors, and senior fellow of the Potomac Institute of Policy Studies. In 1991, he retired after 41 years of service to the United States Marine Corps. From 1987-1991, he served as a member of the Joint Chiefs of Staff, as the 29th Commandant of the Marine Corps, and as an advisor to both Presidents Reagan and George H. W. Bush. During this time, he developed and implemented a new long-range strategic planning process for the Marine Corps and established the Marine Corps University.
Gen. Gray has served as board chairman and CEO for several public and private companies and has consulted to national and international industry and government. He has served on the Defense Science Board; Defense Special Operations Advisory Group; National Security Agency Science Advisory Board; National Reconnaissance Office Gold Team; Defense Operations Support Office Advisory Team; and as director of the Advanced Concept Demonstration Technology for Combat in the Littorals. Gen. Gray is also chairman emeritus of The Injured Marine Semper Fi Fund and America Fund, which help take care of wounded veterans and their families. In addition, he currently serves as chancellor of the Marine Military Academy and chairman of the US Marine Youth Foundation.
Gen. Gray has been recognized with multiple distinguished service medals from all branches of the US Armed Forces, the Silver Star, two Legion of Merits and four Bronze Stars with Combat "V", three Purple Hearts, three Joint Commendation Medals, Meritorious Service Medal, Navy Commendation Medal, and Vietnamese Cross of Gallantry with Palm and Star, as well as service awards from Argentina, Brazil, Chile, Columbia, Korea and The Netherlands.
Gen. Gray holds a B.S. from the State University of New York, and also attended the Marine Corps Command and Staff College and Army War College. He received honorary Doctor of Law degrees from Lafayette College and Monmouth University, and a Doctor of Military Science from Norwich University. He was the first awardee of an Honorary Doctorate of Strategic Intelligence from the Defense Intelligence College (now the Joint Military Intelligence College), and was also awarded an Honorary Doctorate in Leadership from Franklin University, and an Honorary Doctorate from APUS. He is trustee emeritus of Norwich University, past trustee of Monmouth University, past member of the National Defense University Board of Visitors and chairman emeritus of American Military University. In 2017, the APUS Academic Center was renamed in his honor as the Alfred M. Gray University Center.